Finally, shopping online is now as easy as ABC, who is not convinced? let him voice out publicly. According to BO Derek, who ever said money can't buy happiness simply didn't know were to go shopping.
We are living in an e-commerce era (not just in Nigeria but globally) and it is very important for small business owners to start considering having an online presence that enables them to sell and showcase their products to a much broader audience.
All my life I have seen people embark on shopping fair, majority of our efforts is  CENTERED ON; How do we make the shopping experience a great one? so I decided to come out with this list of
 top 10 online shopping sites
 .
 In order to make your purchase successful without stress, check out a review of the top 10 online shopping sites in Nigeria to make your purchase .
---
---
---
---
Jumia.com 
is currently topping my list of the top 10 online shopping websites in Nigeria.
Like a tree that leapt out of nowhere, 
Jumia.com.ng
grabbed the convincing special treatment and attentions of Nigerians by astonishment. The online megastore has made Nigerians who were still cynical about whether or not to trust online shopping, open up to the idea technically even more positive, Since its inception Jumia has never for once fail to amaze its customers with unprecedented offers like the
Jumia megathon mobile week
.
---
---
---
Currently Jumia online store prides itself as Nigeria's number one online shopping website and this is not far from the certainty.
---
---
On Jumia, you would find dozens of product categories to select from including latest mobile phones,
top android phones
(
The new infinix hot note
),beauty products, fashion, electronics, household items as well as industrial goods. Customers also get to enjoy a free voucher of N1, 000 on their first purchase.
Konga has not failed since its inception, and it will be very prejudicial if Konga is
not on my list. Subsequent and following close analysis, Konga has its slope on
track with a record matching Jumia, but superiority stands dynamic. Thoroughly
on the heels of Jumia is Konga.com.ng. What makes Konga exceptional is that you
can also sell and earn money as a retailer on Konga.
---
---
Once you register as a seller on Konga, you would be given your own online store on their platform where you can advertise and sell your goods.
Konga also offers a exclusive shopping involvement for buyers through its free shipping and buyer protection services.
---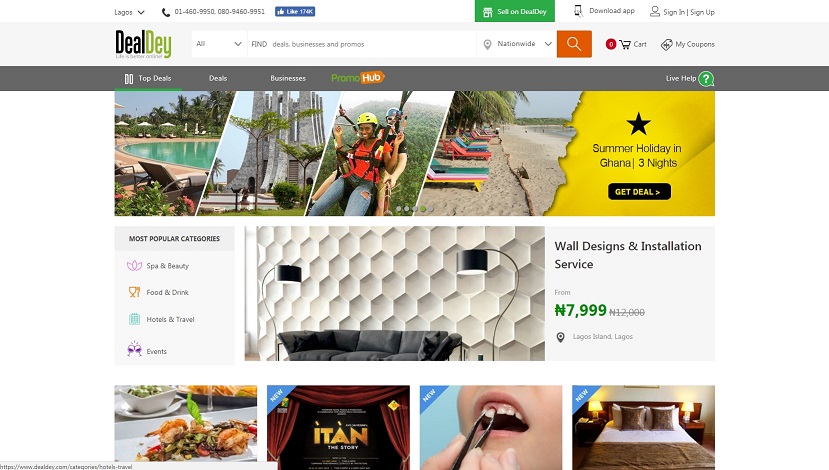 Without missing words and void of error, when Kaymu started, I thought it was not going to head this extent. But I have seen Kaymu soar to the length and altitude it is today.
Kaymu.com.ng is another prevalent online shopping website in Nigeria with a very robust and strong review system. Kaymu permits and allows retailers in miscellaneous
niches to sell their goods using its undiluted platform. Buyers are able to leave reviews about the quality of goods they purchased and their overall experience with the seller for other potential buyers to access.
---
Dealdey has become so popular that I wonder why it hasn't overhauls the likes of Jumia and Konga. But time will tell, I rest my case.
Dealdey.com is Nigerian E-commerce platform with a difference and consistency. What Dealdey focuses on is bringing bargains to their subscribers. They bond the gap between people who wish to sell their products and services at the most affordable and inexpensive prices and subscribers who are searching for what Nigerians call "Awoof" offer. If that is
what you desire, just run now to Deldey and start shopping by clicking here Dealdey.com
Kara has not and will not fail/disappoint its customers. Kara has been existing and will continue to exist efficaciously.  Kara is another online shopping store in Nigeria of esteem standing, and in Nigeria if you will like to kick starts your online shopping career without hesitation, just visit them now at   Kara.com.ng.  On Kara, you can purchase all categories  and varieties of electrical and electronic merchandises including mobile phones, computers, household appliances, generators and several others. Why waiting, visit Kara now at Kara.com.ng
Looking for a niche Online shopping website to SkyDrive your shopping motivations and plans, don't waste much time any longer, just look at Fashpa as your next platform to romance.
Fashpa.com is a niche online shopping platform that focuses on selling fashion items including male and female clothes, shoes and accessories.
 Gloo.com.ng is one of the craziest Nigerian Wal-Mart shopping plaza.  At Gloo your
satisfaction is their priority. Thinking of an online supermarket to visit now, just visit Gloo and they will wow your expectation. Gloo is your online supermarket where you can buy anything from groceries to OTC drugs and have them delivered to your home without moving an inch.
My store popularity seems to be shadow, although slightly less popular than the above-mentioned stores, mystore.com.ng is still an online store to beat in Nigeria. Mystore.com.ng sells kitchen gadgets, home appliances, office supplies as well as health and beauty products.
Circuit Atlantic is one of my most adored online shopping websites in Nigeria, because I can embark on my shopping career in Europe top countries like US and UK while in Nigeria.
Do you need to buy something but can't find it anywhere in Nigeria? Who says you can't shop overseas from Nigeria? Circuit Atlantic is an online store that makes it possible to shop from US and UK stores and receive it here in Nigeria.
Mall4africa has it all, Jaysciencetech says so. Similar to Circuit Atlantic shopping mall/store. It can wow your experience and make you visit more and more.
---
---
 Just like Circuit Atlantic, Mall4Africa.com allows you to shop from USA, UK and China while you pay in Naira and receive it here in Nigeria. Is that not incredible and worth visiting. If I where you I will visit their online shopping cart now and begin my exploration without hesitation.
If you think my lists is not complete and strongly feel there Is more to the list outline above, kindly use the comment box to make your addition. Don't fail to share this post as a friend is waiting!