Overview of Interior Decoration Business in Nigeria
Combining colours to bring out the beauty and style in interior decoration business is something you cannot do without if you intend to start interior decoration business in Nigeria. Most importantly, one should know that making interior decoration as a career in Nigeria is not as easy as it sound. Unlike Boutique  business and Fashion designing business in Nigeria that are pocket friendly and easy coated. You must understand the use of colours and the different principles behind them. Nigerians have been known to looking down on the field and attribute it to colours and fashion trends.
However, more and more Nigerians are coming to understand and respect the field especially with regards to the beautiful artistic arrangements we have come to witness in this generation. Therefore Nigerians are living the decoration of spaces to the capable and experienced hands of interior designers.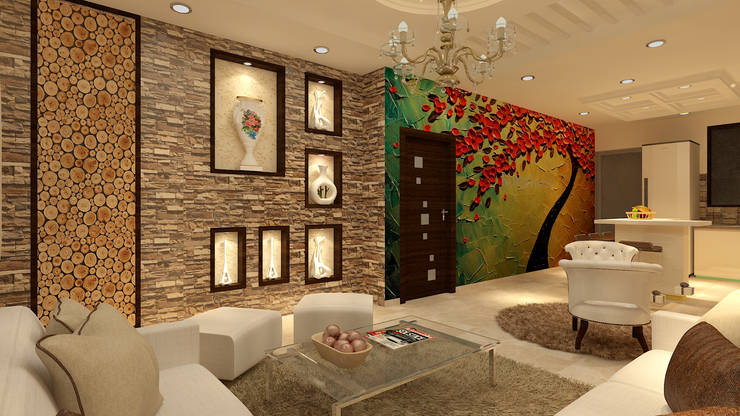 When it comes to starting an interior decoration business in Nigeria, it's way beyond just being familiar with different colours. It is possible that you could narrowly escape with little jobs like organizing a client's home, but it gets complicated when projects like organizing office space, showrooms, industrial buildings and so on. That is when the real decoration work comes into play.
So here it goes; How to start Interior decoration Business in Nigeria. Engaging and carving a niche in this fantastic profession can be quite easy. Below are the simple steps;
Be talented
This happens to be the most important factor in interior decoration business. You just have to be talented since that is what will guide you in the selection of various colours, fabrics, textiles of different materials as well as the combination of all these elements to bring out the true fashion in decoration. You must instinctively be able to discern each and every one of these dimensions.
For you to also face the challenges in decoration business, you have to develop a keen passion for the business because the world of an interior designer is a hectic one and requires you're in-depth love for decorating spaces else you will burn out fast. Hence money should not be your driving factor but rather your passion.
READ ALSO:How to Start Computer Training School
Be properly Educated
The profession of Interior designing is not "a wakeup and take a dive" field. Wherefore, you can take that a dive (if it's even possible), it's a "good" way to start losing clients because soon your clients will begin to see through your disguises and sense just how dubious your business really is.
To succeed in decoration business it is not only that you combine colours but you should also understand colour coding and what they represent. To achieve this is through proper education. You don't have to be nervous if you do  not have sufficient funds to go to higher institution, you can get this at the different Interior design schools that abound in the country. Some of them run programs from as low as 3 months to more than a year with flexible class hours to ensure you can get to your other businesses.
READ ALSO:How to Start Boutique Business in Nigeria
Start with voluntary works
If you have waited so long for customers to come but it seems that you're running out of patience, start investing in voluntary works. First, you can register as an intern under the wings of already established interior designers in the country. This is possible because some major interior decoration schools offer this opportunity while others do not. You do not have to wait on your poor self if you are not financially stable. Even if your place of training does not provide this, you can seek one and work for whatever pay and also if there is no payment involved, its only perseverance that will help achieve your desired goals.
Secondly, you can design the houses of your friends and family for free, this will be much fun and constructive criticism gotten from them can help you identify your flaws and restructure your game plan. Exposure and Experience are your most significant assets as your rating will ultimately determine your scale of payment.  It is important to also note that you should never do voluntary work for a potential client as this can significantly demean your business and portray your organization as a "charity facility." Narrow down the list of friends you would do free jobs for to those who will ultimately help build your reputation as an established and reputable designer.
Stock up your Resources
Get to know your market intimately. Every material required in any building such as kitchen cabinets, industrial materials down to even the price and collections of lamps. You must know places you can get the best quality at the most valuable prize. This will reflect on the weight of your quotations and give your clients the desired impression of how dedicated you really are. Your clients will love you for this as it is an added advantage to your expertise.
Portfolio building
A portfolio is merely a picture book designed to explain your work and communicate to your potential clients. Now a lot of designers make the mistake of picking up designs from the internet and giving it off as their own. This is not just illegal but a huge turn off to your clients. You must fill up your portfolio with pictures from your past works; ensure you use the best photographing techniques to capture every space). No matter how simple the job is, originality keeps communication with your intended clients. Therefore a significant portfolio depends on making sure that all voluntary jobs did are being attended to with the utmost caution as they strongly determine the quality of your collection.
Your Clients; Not you
Ultimately it's about your clients and not you. You must be a "people person" if you want to excel in this field. You must exhibit attributes such as excellent communication skills, listening skills as well as humility. You should make sure to communicate with your clients' on more than the level of business; you must see the proposed project through their eyes to fulfill their desires. Never style your client's job according to your personal affiliations, even if you have inputs, ensure to discuss this with your client and understand how they really feel towards the proposed project. Your client's needs must take priority over your preferences in every job.
Marketing
The field of Interior designing is highly competitive; therefore extensive marketing skills are required. Take advantage of all levels and styles of advertisements; whether it is paper advertisement, business cards or online advertising strategies, you must take complete advantage of every platform. Online Advertising is a grand strategy, showcase your unique talent through Facebook, Instagram, Twitter, and so on.  Clients can be accessed from anywhere in the world, you must understand that you can be hired as an interior designer from areas very far from you.
For real marketing, remember that your friends and family are critical points to enhancing and expanding your business. Take advantage of all organizations you belong to including your religious organization, they are essential.
Lastly, Can you do it?
The field of Interior designing is calls for serious attention, if you're a busy kind of person it wont be suitable for you. The number of clients you will be receiving on a daily basis can make you sad if youre not intelligible,friendly, cautious and time conscious, but the key to keeping them is more critical and maintain good PR. Practically, With hard work, quality portfolio and excellent personal skills you will soar to great heights.
KINDLY READ THE FOLLOWING TO HELP YOU
---