Top List of Ecurrency Exchangers in Nigeria
Are you searching for the best ecurrency exchangers in Nigeria?There are lots of ecurrency exchangers in Nigeria.With the increasing rate of online trade, the need for e-currencies is more crucial than ever. Whether you are a forex trader, online investors or just a simple merchant, if your business is targeting the customers of the 21st century then you must have welcome the e-currencies as the medium of your fund exchange.
One of the major concern for any online investors is to find a fast, reliable, efficient and affordable e-currency exchanger. Moreover, those merchants who deal with the clients across the globe also struggle to find the same. Considering such demand, the experts have come up with a list of top 12 e-currency exchanger and they are followings:
This is a comprehensive list of some ecurrency exchangers in Nigeria that deal in popular ecurrencies, they buy and sell while few accept exchange from one form of currency to another. Most buy and sell in Naira. Major  ecurrency exchange services provider include Perfect Money, BitCoin, WebMoney, PayPal, Payza, Solid Trust Pay, EgoPay, Okpay, Moneybookers/Skrill etc.
Few also offer online payment service (Pay for Me) i.e help to pay for goods and services in any currency of choice while you pay them in Naira. It is highly significant to note that we are not advocating the use of any of these service providers, we advise you perform personal background check on them before entering into exchange contract with any.
We also strongly advise you to also drop information regarding your experience with any of the listed currency exchangers  below for more scrutiny and recommendation.
Note: This List of ecurrency exchangers in Nigeria is not according to performance, but rather based on a randomized arrangement.
---
eTradeXchange
eTradeXchange is one of the leading e-Currency exchanger in Nigeria that offers best rates. Supported currencies are Perfect Money, BitCoin, WebMoney, PayPal, Payza, Solid Trust Pay , EgoPay, Okpay , Moneybookers/ Skrill etc.The accept transaction above $10.
website: https://www.etradexchange.net/
Benefits of eTradeXchange
Best rates of e-Currencies exchange
Competitive fees
Fast funding
Different payment methods
An easy to use platform that is safe and secured
Capable of both funding, selling and exchanging e-currencies
Covers exchange for a lot of options which includes Webmoney, perfectmoney, and many cryptocurrencies
Simple and reliable service
Standard Gold Nigeria
Standard Gold Nigeria delivers top notch and unbeatable service. An e-commerce firm engaging on internet related business and offline investment, a subsidiary of MOSBE GLOBAL RESOURCES and duly registered with the Corporate Affair Commission (CAC) (BN036916).
---
They offer good rates, fast, cheap and reliable exchange service in Perfect Money, Egopay, Solidtrustpay, OkayPay, Payza (Alert Pay), Webmoney and other electronic currencies.The Minimum amount you can BUY from them Or SELL is $20.
website: http://www.standardgoldng.com/
---
Naira2USD is an e-Currency trading platform that is owned and managed by Simac C & S services. They specialize in the buying, selling and exchange of various e-Currencies such as Bitcoin, Skrill, Payoneer, Litecoin, Perfect Money, WebMoney, PayPal, Neteller, Ethereum and others. The company claims to offer the best value in the market to their clients while maintaining a professional approach to serve its customers better.
Benefits of Naira2USD
Instant funding system
Good business ethics
Safe and Secured platform
Variety of e-Currencies are available
Frequent addition of new currencies
e-Dollar Nigeria

Currently stands as one of the best in Nigeria. e-Dollar Nigeria Offers best rate in major ecurrencies however, if you are buying above $100 as case may be you must verify your account by a proof of ID and a utility bill showing your name and address.
The form of ID accepted are International Passport & Driver License.Utility bill may be your recent bank statement, Electricity bill, Water bill or any document showing your name and address.
Website: http://e-dollar.ng/
---
NigeriaGoldExchange

Started since December, 2009 (NigeriaGoldExchange.com), they specialize in PayPal Account Opening, Verification and Funding. The website is managed by KKAN ONLINE SYSTEMS, Nigeria (Reg No. EN23996) a subsidiary of OMNIFORUTNA LTD, Port Harcourt and registered with the Corporate Affairs Commission (CAC) of Nigeria.
---
Services render also include INSTANTLY fund for SolidTrustPay, WebMoney, PexPay, PayPal, Skrill, Bitcoin, HotForex, Exness and other e-Currency accounts.
They also offer PayPal/Credit card payment on ClickBank, Warrior Forum, e-Junkie e.t.c.
website: https://nigeriagoldexchange.ng/
---
Gold2Naira

When listing top ecurrency exchange sites or platforms in Nigeria, Gold2Naira is exceptional. Owned and managed by Ekebs C.C Global Resources. They are Perfect Money certified partner and official Perfect Money and Entro Money exchanger in Nigeria.
You can buy Perfect Money, sell Perfect Money, buy Bitcoin and sell Bitcoin or exchange Perfect Money, WebMoney, Bitcoin, Payza (AlertPay), SolidTrustPay, Paypal, Pexpay, Paxum etc.
---
There is no maximum limit for the buy, sell or exchange order with discount on large exchange.
website: http://www.gold2naira.com.ng/
---
Naira4Dollar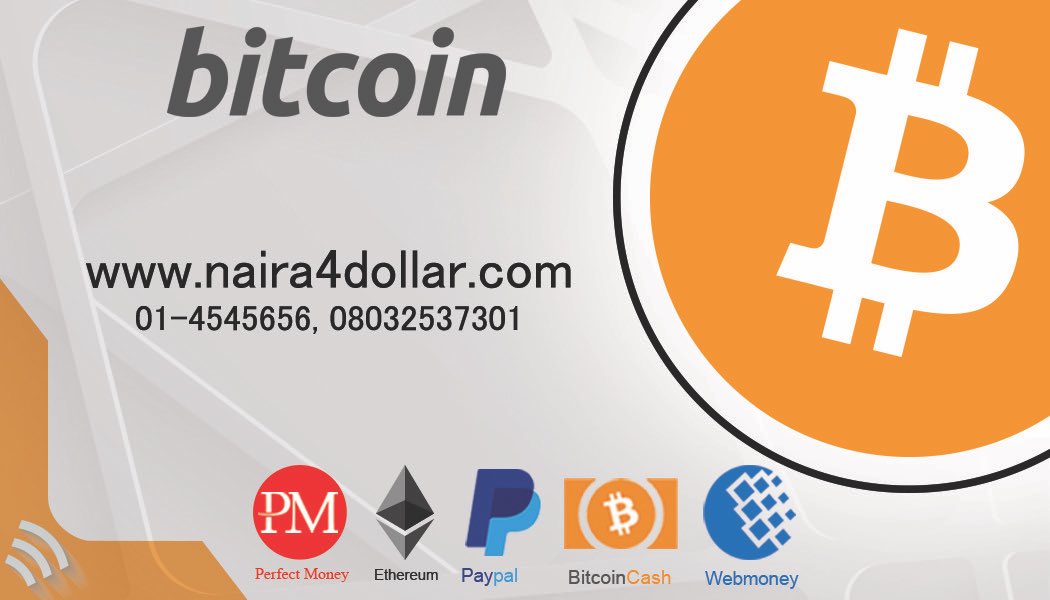 A company of Sunej Global Ventures Limited. An ICT company registered by corporate affairs commission of Nigeria (CAC), the company is registered to provide e-commerce services, Internet Marketing, ICT, e-currency exchange, etc. Naira4Dollar is Nigeria Leading and most trusted e-currency exchange company since 2006, deals majorly in PerfectMoney.
website: https://naira4dollar.com/
---
E-CurrencyChanger is another top name in the E-Currency exchange business that has been consistently reliable in recent years. The company provides fast, efficient and reliable E-Currency exchange services to customers in Nigeria and beyond. Apart from exchanging e-currencies, E-CurrencyChanger offers a profitable affiliate program for members and promoters of the program.
Benefits of E-CurrencyChanger
Trades major E-Currencies such as Paypal, Bitcoin, Perfectmoney, Neteller, Okpay, Payeer, and lots more
Instant funding
Capable of funding directly into ones bank account
Affordable transaction fees
Well equipped members of staff to make your e-currency trading experience as professional as possible
Accepts payment for e-currency from international customers via Western Union Money Transfer, Money Gram and Bank Wire
Prompt, safe, reliable and satisfactory service
ZITC-Exchange
Verified and certified Perfect Money, Entromoney and Entromoney Partners. They are specifically into e-wallet exchange, buying and selling of e-wallets,e-wallet investments and investment consultancy.
website: http://zitcexchange.com/
---
Goldrush Nigeria
Gold rush is an ecurrency exchange service provider in Nigeria providing reliable and consistent  ecurrency exchange services since 2007. Goldrush Nigeria has its global presence and deals in almost all ecurrencies and also adding new ecurrencies on demand base.
They provide exchange services among all e-currency like perfectmoney , egopay , bitcoin, webmoney and paypal.
website: http://goldrushnigeria.com/
Other Ecurrency Exchangers in Nigeria include;
http://truexgold.com/
http://wealthsco.com/
---
For details on rates and users' review of this exchangers visit the appropriate section of this site.