There are lots of Job search sites these days, due to high rate of unemployment in the country. So many Nigerians look elsewhere for Jobs, but certainly the number of job searching engines online are massive and interesting. In a modernize era like ours, getting jobs isn't supposed to be a problem. But when there are thousands to millions of people searching for the same thing as you do, then there is competition and as such, the possibility of getting it becomes narrow.
But hope is not lost, because technology and other inventions have been able to solve a little of human problem on getting a nice job. There are top and high ranking sites to get nice and heavy paying jobs from. To this very regard, we have listed out the best 15 job search sites for you to surf through. These sites are completely out of the competition since they are highly rated by their visitors.
Once you know how to use the best job search engines, you'll skate through to a finish line of interviews and land your dream job fast.
NOTE: The sites listed below does not in any way indicate or guarantee any job offer. You must be able to use the sites appropriately to search and apply for jobs that best suit the companies' specification.
READ ALSO:Search engine optimization (SEO) techniques for bloggers
Once you know how to use the listed sites below, you'll skate through to a finish line of interviews and land your dream job fast.
Best 15 Job Search Sites
 1. Indeed Jobs
This job searching site is the most popular job searching sites with the best rating so far from its visitors. Indeed Jobs simply scrapes millions of jobs searching sites and integrate them on their web pages for visitors to easily surf through.
To submit a CV on Indeed Jobs, simply type in a job title and location, upload a resume and register for single-click apply.
Click here to visit Indeed
2. Glassdoor
Galssdoor is basically used to know the competitive salary scales of different companies by visitors to comparatively know exactly what they'll be earning on working there.
But it's funny how many people do not know that Glassdoor is also a job search website. The good deal is that if one could combine the two functions together, a better result could be gotten.
Click here to visit Glassdoor
LinkedIn Job Search
LinkedIn is another popular social media-like platform that helps people get their preferred jobs. First, it delivers great job listings. Second, it bootstraps your networking outreach. Users can post rich profiles and connect with key industry power players with a click.
Click here to Visit Linkedln Job search
Google for Jobs
Google for Jobs has been known for linking people with the necessary they sort for online. They connect the likes of top websites with job seekers all on the internet.
To use it, do a Google search for a job title + "job." Google serves up a list of matching openings near you. Click the big blue bar to refine locations and other details.
Click here to visit Google Job search
Monster
Though Monster has received a lot of down ratings from its visitors because of poor management, it's still one of the best job search sites in the world.
It's got a great job selection. Plus it lets you block your resume from current employers.
Click here to visit Monster
ZipRecruiter
This site claims to have integrated over 8 million jobs on their platform. Just a click of application could turn things around for you.
The perks are messaging with employers and a handy notifications setup. According to user reviews, search capability may be somewhat lacking.
Click here to visit ZipRecruiter
SimplyHired
This is rated as the 7th most rated job search website on our platform because of the simplicity and flexibility of the platform.
This site's listings don't seem quite as relevant as the rest. It's a crowd-pleaser anyway, thanks to a large pool of offers and handy mobile app.
Click here to visit SimplyHired
CareerBuilder
Another best job search site is the Career Builder which is rated on the 8th spot on our list. Career Builder recommends job sites based on the keywords input by users.
Their Hire Insider tool also gives a detailed report of how you compete with other applicants. The site's Career Tests can help assess your strategy. A heavy ads scheme subtracts from the experience.
Click here to visit CareerBuilder
Snag (Formerly Snagajob)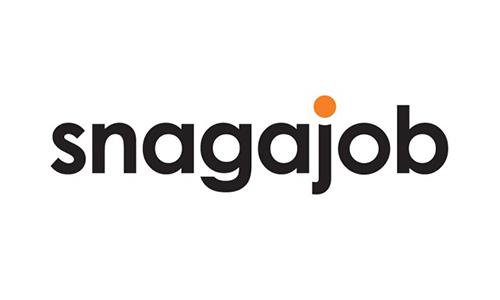 Snag is cool when you are searching for hourly jobs to do. They have integrated a lot of hourly paid companies for the benefit of those searching for such jobs.
When they don't find matching jobs, they provide surprisingly appropriate near-misses.
LinkUp
LinkUp has it all. Just like the name implies, the website adds a great anti-spam twist to help filter the fake job sites from the list. This has gone a long way in helping users get to the right place when searching for jobs.
Every opening on this great job site is verified accurate by actual human beings. Tools like automated job search make the process fast and easy.
Craigslist
The popular Craigslist has been of help for the job seekers for years now. It is also a classified site that helps people buy and sell used and old products at a cheaper rate.
Employers tend to shudder at the spam on big job sites. That makes Craigslist a nice homespun option. It's kind of like the old time print classifieds.
US.jobs
Though this website is US based, there's every assurance of getting a good job from this awesome website even outside the premises of the United States of America.
It's got an easy interface and very little spam. It also packs a Veterans Job Search for military-to-civilian job seekers.
Robert Half
To rank it all, we have the Robert Half job searching website here. It is one of the most popular job search engines and has provided a lot of people with good jobs from inception.
Their job finder website's selection is thinner than other job websites. Some users also complain their scattershot approach may irritate potential employers.
Job.com
Here is second to the last on this very topic "Best 15 Job Search Sites". It uses blockchain tech derived from bitcoin code.
Upload a resume, get instant job matches, apply, and communicate directly with employers. The different approach is worth a try.
USAjobs.gov
USA jobs.gov is the solution to the US based indigenes who have suffered in the lane of job search. It is the last but not the least on our list. It is quite an intriguing job search engine. This site is ready to link you up with many government agencies only based in the US.
The above list is the most popular; most rated and most used websites when it comes to best job search sites in the world.
No point going around searching for more websites, you won't find any other ones better than these.
Give us your point of view from the listed job search websites in the comment box below.