10 Must-Know Things Before Applying for a VA Loan
Veterans Administration (VA) loans are some of the most common types of loans used in today's financing market. They offer many benefits to eligible borrowers and are mainly used to buy, refinance, and even improve a home.
Here are 10 important things one should know before applying for a VA loan:
---
1) It is a guaranteed loan. A Veterans Administration loan is a guaranteed loan by the U.S. Department of Veterans Affairs, which means the lender who provides financing to the borrower is protected against loss if the buyer fails to repay the loan.
2) Not everyone can qualify for a VA loan. One needs to be a veteran or active duty service personnel in order to qualify for VA financing. Veterans can apply for VA financing with any mortgage lender that participates in the VA home loan program, and a valid certificate of eligibility (COE) must be presented along with credit and income requirements in order to qualify for the loan.
3) It offers lower-than-usual rates to eligible veterans. With a VA loan, the borrower usually receives a lower interest rate than is ordinarily available with other loan types. Also, a VA loan can be used to obtain lower rates on refinances up to 100% loan to value.
4) It offers more flexible credit guidelines. The minimum credit score accepted for a VA loan is about 620, however, depending on unique circumstances some lenders may accept a credit score as low as 550. Also, even though other loan types may offer similar credit score guidelines, a credit score of 620 for a Conventional or FHA loan will have more obligations to the borrower and will require a larger down payment.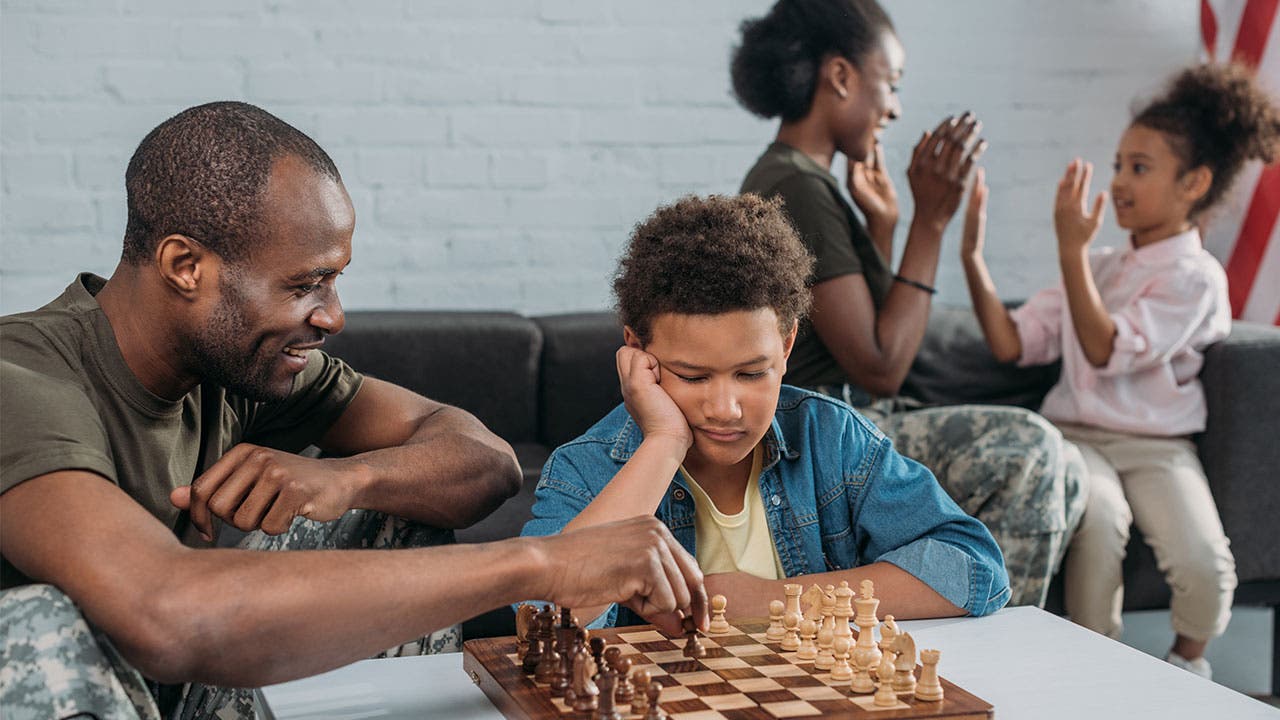 5) There is no private mortgage insurance (PMI) required on VA Loans, and the program can also be used to eliminate Mortgage Insurance (MI) on other loans. For example, one can refinance an existing loan by changing their loan program to a VA loan, therefore, eliminating the PMI and reducing the monthly mortgage payment. Although mortgage insurance is not required for VA loans, the VA charges a funding fee to issue a guarantee to a lender against borrower's default on a mortgage; however, unlike PMI, which is present for the life of the loan on other types of loans such as FHA and USDA, the funding fee (FF) may be paid upfront in cash by the buyer or seller, or it may be financed into the loan amount. There are also lender-paid funding fee credit options available on VA financing if requested up to 3.3%, and some veterans may even be exempt from paying a funding fee on their loan (additional documentation required).
6) Veterans Administration loans often do not require a down payment. Usually a VA loan does not require a down payment, however, if the loan amount exceeds the VA limit for the county where the property is located, the borrower will have to come up with a down payment. The down payment will vary depending on borrower's remaining VA entitlement amount and the purchase price or appraised value of the home and will constitute a percentage of the difference between the two.
7) One may be eligible for more than one Veterans Administration loan at the same time. There is not a limit on how many VA loans one can have at once as long as there is a remaining VA entitlement to be used. For loans above $144,000, the entitlement amount is usually 25% of the VA financing limit for the county where the subject property is located.
8) There is no pre-payment penalty on Veterans Administration loans. Any VA loan can be paid in full at any time, which is a great advantage since it can help one save tremendous amounts of money on interest.
9) The seasoning period for bankruptcies, foreclosures, or short sales are shorter for Veterans Administration loans when compared to other types of loans such as Conventional or FHA. In most cases, one can qualify for a VA loan after 2 years of filing for bankruptcy or foreclosing on their house in contrast to a period of 4 years for bankruptcy and 7 years for foreclosure on a Conventional type loan.
10) It can only be used to purchase a primary residence. The VA benefits cannot be used to purchase a second home or an investment property; however, it can be used to refinance a VA loan that has been previously occupied as primary residence to lower the interest rate (VA IRRL).
The Different Types of VA Loans
The honor and prestige that the hallmark of US war veterans displays, adds to the glorious history that the country projects with pride. The government has always stressed on several welfare development programs and plans to make the lives of veterans and servicing armed force people comfortable in the best way. A Veteran Affairs Loan program is one such initiative, designed by the Department of Veteran Affairs to help these brave men and women get access to easy home loan at low-interest rates, to fund their home ownership dream. In this context, we would like to bring into notice the varied types of VA loans that veterans can hope to consider to make the affair less tedious and more fruitful.
VA Purchase Loans – This type of VA loan is especially beneficial for veterans whose earnings fall within a minimum qualifying income bracket to buy a primary residence. One would not need putting any amount of money towards the sale price of the home, as long as the sale price stays within the appraised value of the loan. The buyer also does not need worrying about the closing costs of the loans, as the seller is bound to pay the closing costs after proper negotiation. Though 100% financing is a possibility for one who opts for this loan, there are other advantages as well:
• The loan's closing costs would be limited which means you would not be asked to pay after a certain limit.
• For a qualified VA loan applicant, you can assume the amount of a VA home loan.
• You are always having a VA loan behind you, if you are having any problems while making your home loan payments in future
• Veterans can prepay a VA home loan without penalties under any circumstances.
VA Refinance Loans – After one has started living in their purchased houses, there are many examples where people need extra cash. If you are looking for more expenditure for a quick house renovation, you can always hope to raise more funds by keeping your home as a source of equity for future borrowings. You should have ample information about the terms, conditions, and timings. This loan requires people to pay their current real-estate debts from the proceeds of a new VA mortgage. This is why this loan is also termed as 'cash-out' refinance. Loan takers should gather information about its various discrepancies before signing up for one.
VA Streamline Refinance Loans – The VA Streamline Refinance Loan or the IRRRL is a great way for current VA homeowners to bring down interest rates on repayments with the help of little or no out-of-pocket costs. Your mortgage refinancing at a lower interest rate than what do you have paid. This refinance loan is available for only those veterans who wish to refinance their original VA home loan by using their original eligibility. Easy and faster sanctioning with little need for paperwork is a surety for these types of loans.
Related Topics to Read
---