NDLEA Questions-Nigerian Drug Law Enforcement Agency Past Questions and Answers
Nigerian Drug Law Enforcement Agency–Here is a compilation of Questions and Answers for the NDLEA Examinations..Get prepared Immediately;
1.What are the visions of  Nigerian Drug Law Enforcement Agency(NDLEA)
ANS– To become the most proactive and leading Drug Law Enforcement Agency on the African Continent and one of the best in the world through the provision of effective and efficient services to Nigerians by cutting off the supply of illicit drugs, reducing the demand for illicit drugs and other substances of abuse, tracing and recovering drug -related proceeds and contributing to the creation and maintenance of an enviable image for the Nation throughout the world.
2. Who is the current Chairman of NDLEA
ANS– The Chairman/Chief executive of NDLEA is Col. Muhammad Mustapha Abdallah rtd
3. What are the key Job specifications of the Directorate of Asset and Financial investigation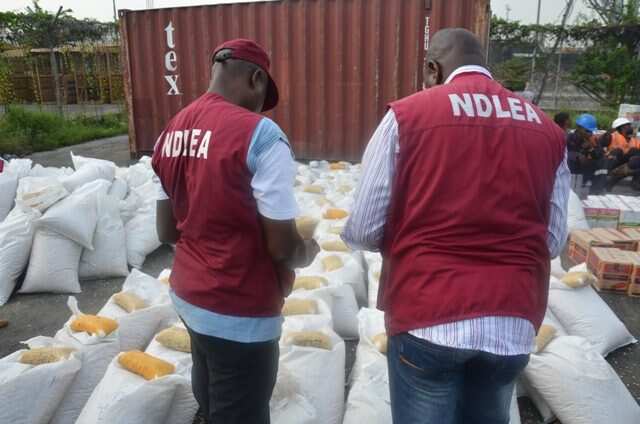 ANS-
The enforcement functions, which entail the detection and investigation of drug related money laundering activities, as well as the tracing, and investigation of suspected proceeds of illicit drugs to facilitate confiscation as empowered by both the National Drug Law Enforcement Agency Act (NDLEA ACT CAP N30 LFN 2004) and the Money Laundering Prohibition Act (MLPA 2011). In order words the Directorate is the Anti-Money Laundering unit of the Agency.
Providing representation for the Agency in her interaction with relevant sister law enforcement and security agencies, other government Ministries, Departments and Agencies (MDAs), and international organisations, so as to fashion out Nigeria's AML policies and enforcement mechanisms that will be in line with the global efforts and standards.
Carry out sensitization and enlightenment programmes on behalf of the Agency, for relevant stakeholders and the general public, on AML issues as they relate to drug trafficking.
4.The DIRECTORATE OF DRUG DEMAND REDUCTION in the NDLEA is responsible for?
ANS- Co-ordination of the drug demand reduction activities of the Commands to ensure standardization of professional drug demand reduction efforts.
5. The Communications Department in the NDLEA is under which department in the Nigerian Drug Law Enforcement Agency?
ANS–Directorate of Technical Services
6. The Lagos state Head office of the NDLEA IS ——-
ANS- Lagos Head Office Address –4, Shaw Road (Onilegbale Road)
Postal Address: PMB 40004, Falomo Post Office, Ikoyi, Lagos.Phone: Tel: +234-80-621-999-99
7. WHAT ARE THE COMMONLY ABUSED DRUGS?
ANS–
Cannabis
Cocaine
Methaphetamine
Alcohol
Cough Syrup with codeine
Gasoline, Aerosols (glues)
Opium
Heroin
Morphine
Amphetamine
8. WHAT ARE THE CONSEQUENCES ASSOCIATED WITH DRUG ABUSE
ANS- PHYSICAL: brain damage, liver damage, hypertension, excessive heartbeat, chronic bleeding, damage to unborn babies, cancer, anemia,etc.
PSYCHOLOGICAL: sleeplessness, anxiety, depression, psychosis, craving desire, distorted perception reduced coordination hallucination, panic attacks, etc.
SOCIAL: loss of job, family disintegration, expulsion from school, criminal offences, stealing, assassination, rape, armed robbery, premature death , etc.
9. DOES THE NDLEA AGENCY HAVE REHABILITATION CENTERS?
ANS–YES
10.List 5 Communications Device commonly used by the NDLEA
ANS–
Radios,
Walkie Talkies,
Telephone lines, and
Satellite/TV facilities.
10. WHAT ARE THE REASONS FOR DRUG ABUSE?
ANS– Many reasons have been abduced to drug abuse. Some of the common predisposing factors in Nigeria are:
• Social pathologies such as unemployment and parental deprivation
• Emotional and psychological stresses such as anxiety, frustration, economic depression
• Peer group pressure characterized by the desire to be accepted among friends or in social circles
• The desire to achieve success in a competitive world; and
• Warped (materialistic ) value system in the society such as the crave to get rich quickly.
11.What are the REQUIREMENT FOR REGISTRATION OF NON-GOVERNMENTAL ORGANISATION(NGO ?
ans–> Membership of not less than 10(Ten) people
• It must have a constitution
• Permanent structure/fixed address
• Well-equipped internet facilities
• Web site address
• Must be registered with the network of NGO's Drug Demand Reduction
• Cooperate affairs commission (CAC) registration
• Other areas of specialization apart from Drug Demand Reduction
• Patrons (sponsors) board member
• Past events in Drug Demand Reduction
• Age of the organization
12. WHAT ARE GATEWAY DRUGS
ANS– Gateway drugs are substances people tend to try first when they start using drugs. These three substances are gateway drugs: Nicotine, Alcohol, Marijuana.
13. WHAT IS DRUG ADDICTION
ANS– Addiction is the physical or mental "need" for a drug. The process of becoming addicted is usually slow.for example, it can take weeks, months, and even years to become "hooked" on the nicotine in cigarettes. But once a person is addicted, getting and using the drug becomes a very important part of his/her life. Once a person is addicted to one drug, it is easier to become addicted to other drugs.
14.. WHY SHOULD I BE CONCERNED ABOUT THE GATEWAY DRUGS
ANS– Gateway drugs are the most commonly used, easiest to get and seemly harmless of all drugs. The pressure to try them is great. You should be concerned about them precisely because they are so popular and seem so harmless. In reality, they have many hidden dangers including addiction, physical illness and mental problems. Once a person is addicted, quitting the drug addiction keeps getting harder. That is why the sooner a person stops; the easier it is to beat the addiction.
15. HOW DANGEROUS IS DRUNK DRIVING
ANS- Drunk driving is the leading cause of death in many road accidents. Automobile crashes can be traced to alcohol abuse. Almost everyday someone or some people are killed by a drunk driver.
NEED MORE??
FOR THE FULL/COMPLETELY ASSEMBLED NDLEA PAST QUESTIONS AND ANSWERS KINDLY ORDER BELOW
CURRENT AFFAIRS SECTION
26. Who is the current INEC Chairman?   Mahmood Yakubu
27. Who is current Chief of Army Staff? Gen. Tukur Yusuf Buratai
28. Who discovered River Niger?  Mungo Park
29. Who coined the name "Nigeria"? Flora Luggard
30. The first trade in Nigeria was held in what year? 1953
31. The highest mountain in Africa is? Mt Kilimanjaro in Tanzania
32. The Largest River in the World is? Mississippi
33. The largest city in the world is? New York
34. Coldest country in the world is? Russia
35. The largest River in Nigeria is? River Niger
36. The United Nations was founded in what year? 1945
37. ECOWAS was founded in what year? 1975
38. The largest city in West Africa is? Ibadan
39. The twin towers ( World Trade Centre ) was bombed in what year? Sept 11, 2001 by Osama Bin Laden Terrorist group
40. The league of Nations was founded in what year? 1920
41. Central Bank of Nigeria was established in what year? 1959
42. The smallest continent in the world is? Australia
43. The First World War started in what year? 1914
44. The First World War ended in what year? 1919
45. The least populated country in the world is? Vatican city
46. Who hosted the 2010 FIFA World Cup? South Africa
47. Nigeria is divided into how many geo-political zones? 6
48. The most populated country in the world is? China
49. The largest Island in the world is? Greenland
50. The Eifel's Tower is located in what country? France
51. Eifel's Tower was built in what year? 1889 by Gustave
52. The Nigerian to win a Nobel Laureate is? Prof. Wole Soyinka
53. N.Y.S.C was established in what year? 1973
54. Nigeria Civil War started and ended in what year? 1967-1970
55. Nigeria changed to use of Naira and kobo in what year? 1973
56. The largest continent in the world is? ASIA
57. The youngest judge in the whole world is John Payton
58. The first military coup carried out in Nigeria was in 1966.
59. Who formed the first political party in Nigeria?
Answer: Herbert Macaulay
60. Question: What was the first political party in Nigeria?
How to Download FULL AND COMPLETE UPTO DATE NDLEA 2019/2020 Past Questions and Answers?
The cost of the Fully packed NDLEA Past Questions and Answers is 3000.00 naira
COST: 3000
See the payment detail below.
Account Details
Account Name:  JOHNSON JOSEPH
Account Number: 2064705639
Bank: UBA BANK PLC
Electronic Transfers Accepted
After Payment , send the following (1) Email address, (2) depositors name, (3) amount paid (3) Exact Questions Needed and code to 08162534441 on Whatsapp or 08156739977
Delivery Assurance
How are you certain the exact Questions and Answers will be delivered to you  after making  payment.??
Our services is based on honesty and integrity. That is why we are very popular.
StudyandPass Team currently stands out and have been doing business for long, we wont tarnish our image over 2000 to 10,000 , we have been in business since 2010 and have been delivering honest and trusted services to our valued customers.
Since we started, we have not had any negative comments from our customers, instead all of them are happy with us.
Our past questions and answers are original and from source. So, your money is in the right hand and we promise to deliver it once we confirm your payment.
If you have purchased yours, kindly drop a testimony in the comment box below.