The festive season is here and WhatsApp want to make your celebration and holiday meaningful. WhatsApp management has given 5 awesome tips to make this festivity memorable for you using the popular chat messenger.
RELATED POST:
So if you are a user and lover of WhatsApp, here are the five tips for using the chat app this Christmas period.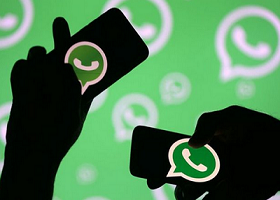 1. Show everyone that you have that festive feeling
If you just can't contain that festive feeling and you want to let everyone know you've embraced Santa, why not update your status – You can create your own, bespoke 'About' status to share the festive cheer with all your contacts.
To do so, go to Settings > [Tap your name] > About > Status > Edit, type your update and share with the world your current Christmas status.
2. Send a festive Voice Note
Sometimes a text message just won't cut it when you want to share some festive love. The WhatsApp Voice Notes is perfect for sharing a Christmas carol or channelling your inner Mariah Carey on Christmas Day.
Just hold down the microphone icon and swipe up, (this locks the voice note function to 'record'), record your message and press send!
3. Update your 'About' status before you get on the road
To let your WhatsApp contacts know what you're doing at any particular moment, you can set your 'About' status before you get in your car, to tell your contacts that you're 'Driving Home for Christmas'. You can also use the feature to tell people you're on holiday, at the gym, or sleeping.
To do so, go to Settings > [Tap your name] > About > Status, and select a pre-existing option, or, to personalize it, click Edit, select any of the pre-existing options, and share with the world what you're currently up to
4. No matter the distance, connect in an instant
Due to WhatsApp being able to operate on even the lowest of bandwidths, this Christmas use WhatsApp Video or Voice Calling to connect with loved ones, no matter where they are in the world. Using your normal airtime this period is a complete waste of money, video call and Voice call will do the magic in an instant on Christmas Day.
5. Share your Live Location before you set off
Share your Live Location on WhatsApp with your friends, family or groups before you set off. You can share your location for 15 minutes, one hour, or up to 8 hours, so there's no need to message at the wheel, even if you're driving from Land's End to Lekki gate! Your friends and family can track your movements in real-time, meaning there's no excuse for giving you a cold Christmas Dinner because you got stuck in traffic.
To share your Live Location, open the conversation of the person or group you want to share your location with, click the '+' button next to the text input section (for an iPhone) or the 'paperclip' (for an Android) > Location > Share Live Location > [Select the length of time you want to share your location for] > Send.
To stop sharing your location once you've reached your destination, click 'Stop Sharing'.
RELATED POST
---